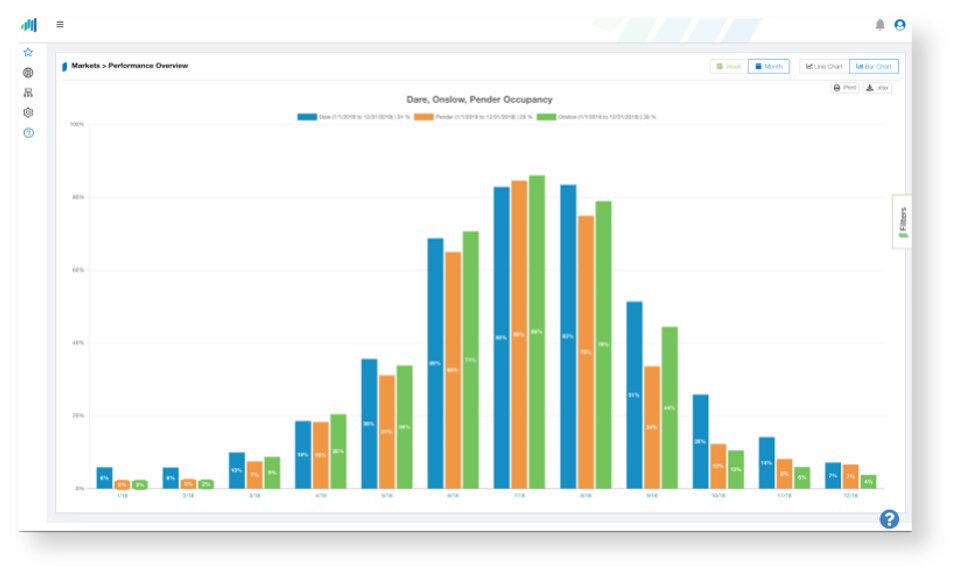 Arrivalist's co-op offerings have gone through a rapid evolution in the past few years, reflecting the changing needs of DMOs during crisis and recovery. Destinations need to know their new customer, discover actionable data in easy dashboard formats, and be able to share the value with stakeholders. At the same time, states are unlocking the value chain by creating efficient opportunities for their individual county and city DMOs. Given successful partnerships thus far, Visit NC is rolling out the Arrivalist Horizon co-op. Arrivalist once again offers Visit NC the opportunity to endorse the first overnight segmentation co-op of its kind: Arrivalist Lodging. New this year insights from Arrivalist are presented within the Horizon platform.
In Q4 2022 Arrivalist released Horizon. A visual-first decision engine for travel and tourism. A new, ground-up platform where charts, graphs, maps, rankings and natural language summary text combine to tell data stories specific to who, when, where (and where else), how long, how much ($). Single click analysis built for decision making. The layout, and the data presentation are all new for 2023. Available modules include:
Arrivalist Trip – Visitation, Origin Markets

Arrivalist Lodging – Hotels and Vacation Rental Metrics

Arrivalist Local – Local vs. Non-Local Destination Data

Time Frames (Year over Year Visualizations)

Arrivalist Media Attribution

Arrivalist POIs, Cross Visitation and Event Measurement
HORIZON BY ARRIVALIST – NEW VISUAL-FIRST DECISION ENGINE
The New Horizon platform includes high resolution (PNG, PDF) downloadable graphics. Colorful maps, charts, graphs, matrices, and rankings – ready to export and use in stakeholder meetings, global filters for dates, POI and POI categories. An all-in-one web application for making big decisions about travelers.
INVESTMENT: Location data from smartphone panel reveals visitor origins, length of stay, seasonality, and in-market behavior through lens of proprietary "Trip Model." Presents key performance indicators using data from our most advanced models, scrollable web dashboard with views of visitation, Year-over-Year insights, POI activity, Cross Visitation, Locals vs. Travelers, and more. $19,000/Year.
FEATURED: ARRIVALIST TRIP The visitation module provides an overview of visitor estimates, seasonality, and origin markets. Meanwhile, the Points of Interest Dashboard includes both POI, POI Categories and Events with cross visitation.
ARRIVALIST LODGING
Arrivalist Lodging Module is the industry's first total overnight demand market view. Integrating data from best-in-class hotel booking metrics and vacation rental metric providers, Arrivalist employs location data to understand where visitors spend the night, how that varies by hotel class, origin market, time of year and more. LED users report back a spectrum of use cases from improved ZIP code targeting to increase ROI to optimized content marketing to heightened advocacy. Lodging will be integrated into the web-based Horizon platform in Q123.
INVESTMENT: Segments destination overnight trips by lodging type (hotel, vacation rental), hotel class, origin market and more. Integrates best-in-class hotel and vacation rental metrics for a comprehensive view of the overnight market. $19,000/Year +$5,000 one time set up fee for new Lodging clients.