| | |
| --- | --- |
| Weekly e-newsletter for VisitNC partners | August 9, 2017 |
IN THIS ISSUE:


* Reminder: Deadline this Friday to complete Visit NC input survey, chance

to win $3,000 co-op credit

* Tourism's importance 'in focus'

on Spectrum News
* Tuttell new chair for Travel South USA

Reminder: Deadline this Friday to complete Visit NC input survey, chance to win $3,000 co-op credit
In preparation for its annual strategic planning process, Visit North Carolina is conducting an online survey of its North Carolina industry partners to gain insight and feedback in a number of program areas. It is critical to the evolution of Visit North Carolina's marketing efforts on behalf of the state. This is your chance to tell us what you need. Please take the time to complete the survey.
Audiences, geographic markets, cooperative programs and industry communications are among the topics covered in the survey. Survey results will be used to help shape Visit North Carolina's priorities for the 2018-2019 fiscal year plan, which will be introduced to the industry in March at Visit North Carolina 365 Conference in Winston-Salem.
The survey is available online through Aug. 11 at 5 p.m. North Carolina travel industry partners completing the survey will be eligible for a random drawing that will award one N.C. organization a $3,000 co-op credit for use on VisitNC.com.
Click
here
to access the survey. Visit North Carolina welcomes the input and appreciates industry partners' participation and support.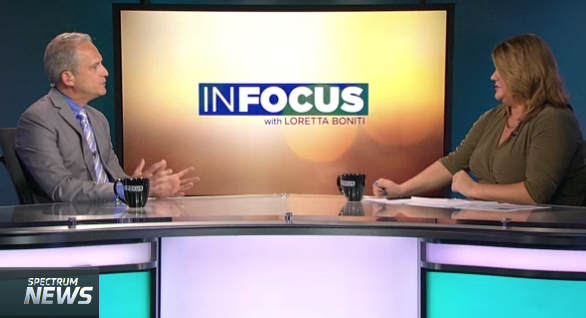 Tourism's importance 'in focus' on Spectrum News
Tuttell new chair for Travel South USA
Visit NC's Wit Tuttell assumed the chairmanship of Travel South USA this week at its board meeting and strategic planning session in Greenwood, Miss. Tuttell outlined his vision for his chairmanship of the regional marketing entity for the outhern states in a letter to the membership. His goals for the organization are to further advance Travel South USA's efforts through research, domestic programming and international marketing efforts to keep the South at the forefront of visitors' minds and help the region attain even greater recognition and visitation through the member states' continued combined marketing efforts. Travel South USA is the official regional destination marketing organization for the southern United States. The non-profit organization promotes travel to and within its member states of North Carolina, Alabama, Arkansas, Georgia, Kentucky, Louisiana, Mississippi, Missouri, South Carolina, Tennessee, Virginia, and West Virginia.
Travel South's international co-op marketing partnerships allow North Carolina to reach potential travelers for a fraction of the cost of standalone efforts. This allows Visit NC to have a presence in several international markets that would otherwise not have representation.
Visit NC staff sees new face, new place
Adam Glaser is Visit North Carolina's new tourism coordinator. He will be the first point of contact with mainline telephone inquiries to Visit North Carolina, and his duties will include a variety of administrative functions ranging from certain reports to the Visit NC management of group calendars. Glaser can be contacted at (919) 447-7767 or via adam.glaser@visitnc.com.
Hayes Norris is Visit North Carolina's new public relations representative, moving from tourism coordinator. Her duties include overseeing Visit NC's media mission planning and efforts, developing media itineraries and working on partner outreach for media fams. Hayes (yes, please note that's her first name) Norris may be contacted at (919) 447-7809 or via
hayes.norris@visitnc.com
.
| | |
| --- | --- |
| | |
| | Riders take advantage of a photo op (photo courtesy SmugMug) |
Cycle NC wraps up successful Mountain Ride
This past weekend, more than 400 cyclists took in the beauty of the Smoky Mountains during the annual Cycle NC Mountain Ride. This year the ride was based in Bryson City with several routes that toured Swain, Jackson, Macon and Cherokee counties. New this year, an added excursion was available on Sunday morning: the Great Smoky Mountain Railroad took cyclists and their bikes on a scenic tour to Dillsboro, where the routes lead back to Bryson City.
Visit North Carolina is a founding sponsor of Cycle North Carolina's Mountains-to-Coast, Fall and Spring rides. Cycle North Carolina offers one of the largest cross-state bicycle tours in the United States. The three annual rides are designed to promote North Carolina's scenic beauty while providing substantial economic impact to small towns across the state.
Carolina Panthers show off stadium renovations
A total renovation of the field, more lower-level craft beer options and newly redesigned clubs on the 300 and 400 levels are some of the major changes football fans can expect at Bank of America Stadium this season. The Carolina Panthers' current phase of renovations - part of a five-year, public-private financing agreement with the City of Charlotte - has cost $47 million, $17 million of which has come from the city, according to a Panthers representative. The entire 100-level concourse was renovated like the 500-level was during the last off season. One of the biggest changes fans will notice is the revamped concession-stand configurations designed to sell more food and drinks and get people through lines faster. The Panthers also completely gutted and renovated the 300- and 400-level clubs. Outside the stadium, a new technology building will house the cellular equipment designed to make it easier for fans to use their mobile devices in the stadium. "We want to give our fans every reason to come to the stadium. We know the younger generation watches sports differently," said the representative.
PGA Championship offers Charlotte a chance to make a major impression
As the PGA Championship tees off this week at Quail Hollow Club in Charlotte, it puts Charlotte and North Carolina on the national stage once again. The prospect of a highly successful PGA Championship, based on record-setting advance ticket and corporate hospitality sales, bode well for putting the city's tourism sector in a stronger position, industry executives and analysts believe. Both the PGA of America and local boosters
estimate the tournament will add $100 million worth of spending
, a figure based on recent PGA Championships in other cities. Cable network TNT and CBS will air 28 hours of coverage from Quail Hollow between Thursday and Sunday, including aerial shots of the city and the course and tributes to the aesthetic pleasures of the host site.
Asheville, Charlotte noted during Beer Day; Cape Lookout, Cape Hatteras Lighthouses for Lighthouse Day
As Aug. 4 was International Beer Day,
USA Today
offered a photo gallery of '
50 beer destinations around the world
," and included Asheville and Charlotte. For Asheville, it was noted, "Asheville, N.C.'s beer scene is booming with more than 30 breweries. Asheville Brewing Company has three locations with pizza, movie screenings, a game room and a patio depending on the destination." Of Charlotte, it explained, "Charlotte, N.C. has more than 20 breweries, plus many more in the surrounding region. Lenny Boy Brewing Co.'s taproom offers 28 beers on draft Wednesday to Sunday."
Another article, "Celebrate National Lighthouse Day around the USA," included fun facts for the Aug. 7 observance, such as the tallest lighthouse in the USA is the Cape Hatteras Light Station. The accompanying photo gallery, 'Lighthouses around the USA," included Cape Lookout and Cape Hatteras lighthouses. Of Cape Lookout Lighthouse, the caption noted, "I

n 1804, Congress authorized a lighthouse be built at Cape Lookout, North Carolina, and in 1812 construction of the Cape Lookout Lighthouse (aka Diamond Lady Lighthouse) was complete at a cost of $20,678.54." Of Cape Hatteras Lighthouse, "The Cape Hatteras Lighthouse in North Carolina's Outer Banks is considered one of the most famous and recognizable lighthouses in the world."
The Hero Effect features Indo Jax Surfing School
The Hero Effect
on OWN (Oprah Winfrey Network) this Friday features Indo Jax Surf School, based in Wilmington. Founder
Jack Viorel and his Indo Jax Surf Charities bring free surfing programs to special needs and disadvantaged children. View the trailer
here
Surveys, Industry, Marketing & Travel Trends
The not-so-quiet power of a good restaurant website
- As Skift notes,
it's easy to overlook the importance of a well-designed and useful website in an age of social media hype, but a
restaurant's website is the one true place the business has total control of the message
. According to a 2015 survey, 84 percent of diners visit a restaurant's own website before making a reservation. In a climate where social media rules all and reviews and ranking sites routinely show up as top search results for a restaurant, a business's own website might become an afterthought. Online branding a brick-and-mortar business takes time and effort. Given the sheer volume of channels like Yelp, Facebook, TripAdvisor, Instagram, and all the others that make up a good online presence, the prospect of any business, let alone a small business, spending precious time on these services is a daunting proposition. But away from all the third-party-controlled sites, there's one place where small businesses can maintain complete control: their website. According to a 2015 survey, 84 percent of diners visit a restaurant's own website before making a reservation. That's a huge audience a business may be losing without a robust and useful website - and that's not even taking into consideration the lost revenue opportunity.
Communities banking on mega youth sports complexes
- Youth sports travel is scoring big as communities across the United States build multisport complexes crammed with state-of-the-art fields, rinks and courts in hopes of drawing not only tournaments for kids crazy about sports - but also parents who spend big on transportation, hotels, food and family entertainment.

All across the country,

reports US News & World Report,

communities are reinventing themselves as youth sports travel destinations

, following a model that Disney helped launch 20 years ago with a sprawling sports complex in Kissimmee, Fla. That the industry is "recession-proof" has been a talking point for developers and town councils since a 2009 study showed participation in youth sports travel increased from 2008 to 2009 despite the Great Recession. Spending has increased by 10 percent in each of the past couple years. Some $10.4 billion in spending was generated in 2016.The pace of development has become so high that even some travel league executives fear there could soon be a glut in facilities. Experts warn that before communities invest heavily into sports complexes that they have an independent feasibility study done to gauge demand, competition and return on investment. Some communities have pushed back against such sports complex plans, with residents opposed to extra traffic and noise - and potentially higher property taxes to finance a site. Plus, there are some that

see the potential for oversaturation if building continues at today's rate.
Today's sports venues are taking the viewing experience outside
- High ticket prices have often discouraged fans from seeing a game at their local sports arena or stadium. Teams have recognized this, and in recent years have allowed fans to watch the big game on large screens outside with hundreds, if not thousands, of other individuals like themselves, reports MultiBriefs.com. Not only has this furthered game-day revenue for franchises, but it has also been expanded upon with the creation of sports districts - blocks surrounding arenas and stadiums that cater to fans on game day and beyond. As millennials are looking to live, work and play in a city's downtown core, developers have taken note. While past stadiums and arenas were often built in the suburbs or areas difficult to travel to, today's buildings are serving as anchor tenants that are close to public transit and a variety of restaurants, hotels, offices and other entertainment options. Fans can attend games inside their team's building, and also outside - with outdoor viewing parties being held on large screens around the building.
In your idle time, think about the environment
It seems that some drivers still believe there are advantages to idling their vehicles while parked. The opposite is actually true. Of course, when traffic is backed up, drivers are forced to idle their vehicles, but what about when a delivery truck is delivering goods to a restaurant or a tour bus is parked, waiting to pick up guests at a hotel or attraction? First, let's look at the health aspects of idling. Idling needlessly increases the amount of pollutants in the air and creates problems for people with allergies, heart disease, lung disease and a variety of other health problems. In respect to the environmental impact, tailpipe emissions contain carbon dioxide, the principal greenhouse gas contributing to climate change. Economically, idling wastes fuel and money. An idling car can use as much as 7/10of a gallon of fuel an hour and an idling diesel truck can burn about a gallon of fuel an hour. Contrary to popular belief, restarting a vehicle does not burn more fuel than idling. Ten seconds of idling wastes more fuel than starting the engine. Idling for just two minutes uses about the same amount of fuel as driving a mile. Idling is harder on engines than restarting because idling leaves fuel residues that can damage engine components and increase maintenance costs in the long run. Drivers can reduce their idling impact by warming up their engine while driving, because engines warm twice as quickly while being driven. In the long run, engine life can be extended by not idling. Tourism-oriented businesses can help protect the environment by posting. "No Idling" signs at their delivery and drop-off areas. For more information about no-idling policies, download and view the Environmental Defense Fund booklet
"Idling Gets You Nowhere
," or contact
NC GreenTravel
Manager
Tom Rhodes
at (919) 707-8140.
On

North Carolina Weekend for the week of Aug. 10, learn about the alpacas at Apple Hill Farm in Banner Elk. Go hang-gliding with Kitty Hawk Kites near Beaufort. Plan your next adventure at the NC RV Show in Raleigh. Relax at The Umstead Hotel and Spa in Cary. And the "House Special" samples the fare at Wild Caught Seafood and Music Festival in Gloucester. (Please note: listings are subject to change.) North Carolina Weekend is underwritten by Visit North Carolina. In addition, UNC-TV has made recent editions of North Carolina Weekend

available online

.

Half of the households that traveled overnight to North Carolina in 2016 had a household income more than $75,000, and more than a third (36.7 percent) of them had an income of more than $100,000. The average annual income of overnight visitors to the state was $87,140. For more North Carolina visitor information, visit the

Visitor Profile Studies

or contact Tourism Research Director

Marlise Taylor

at (919) 447-7748.
Upcoming Industry Meetings & Events
Aug. 15
- Visit NC Travel & Tourism Board Meeting, Asheboro
Aug. 21-22
- NC Restaurant & Lodging Assn. Expo, Raleigh
Aug. 26-29
- US Travel Assn.'s
ESTO
, Minneapolis, Minn.
Sept. 6
- NC Sports Assn. Meeting, Aberdeen
Sept. 13-14
-
Blue Ridge Parkway Assn. Fall Meeting, Little Switzerland
Sept. 16-20
- VMA/NCMA/MCASC Regional Meeting and Marketplace, Roanoke, Va.
Sept. 17-18
-
NCTIA Tourism Leadership Conference, Charlotte
Sept. 21
- Visit NC TRAC, Washington