SportsNC is North Carolina's statewide sports development effort dedicated to maintaining and strengthening our rich sports legacy. Visit NC's SportsNC team supports your efforts to attract sporting events of all kinds to your destination. SportsNC is not a paid membership organization. All partners have access to these opportunities through Visit NC. These co-op programs are contracted and billed separately from other Visit NC partner programs and are open to all tourism partners.

SportsNC.com Listings
Listings are for sports commissions and destination marketing agencies (CVB, DMO, TDA, etc.).
This gives the sports rights holder the contact info for someone in the community who can direct sports event planners seamlessly to the resources necessary for planning their event, including lodging, facilities/ venues, and restaurants. This will create a coordinated effort at the local level for an event being hosted in a destination.
New listing features include the opportunity to highlight three venues/ facilities in your destination and photos from your destination.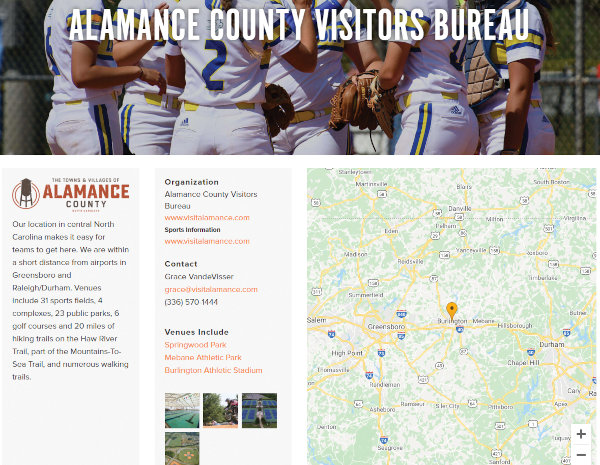 SportsNC.com Featured Destination
Featured Partners are available in 90-day increments
Inventory: Eight (8) partner spots (2 per quarter)
Partners now have the opportunity to feature their destination. Featured partners will be able to showcase their destination on the homepage of SportsNC.com.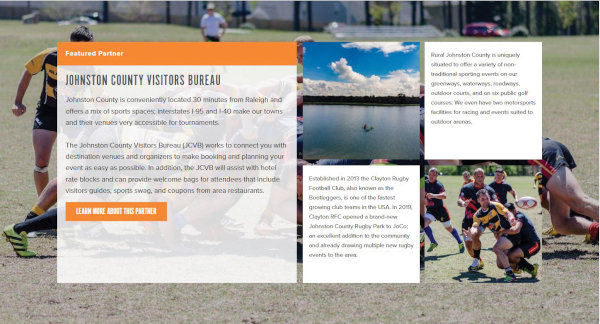 SportsNC.com Featured Events
Featured Events are available in 90-day increments
Inventory: Three (3) partner spots per quarter
Participating partners can call more attention to their sporting events via SportsNC.com-featured event listings. This will help partners showcase the types of sporting events they can host in their community and provide added exposure for the event.
SportsNC.com Custom Content Program: $150
Inventory: Four (4) partner spots (1 per quarter)
We are excited to introduce a new opportunity for partners to work with our content team to develop custom content to be published on SportsNC.com, which can also live on the partner's website. Custom content will be written by the SportsNC team based on the input and collaboration with the partner on desired content and key messages to cover. Partners will maintain joint ownership of the content with SportsNC. The new content will be promoted on SportsNC social channels and the SportsNC quarterly e-newsletter.
SportsNC.com News
Share your sports-related press releases for the opportunity to be included on SportsNC.com News section. Please note not all press releases will be accepted. Examples of topics of interest include: facilities news (for example, renovations and openings), recently awarded events, and the economic impact of a sporting event held in a community.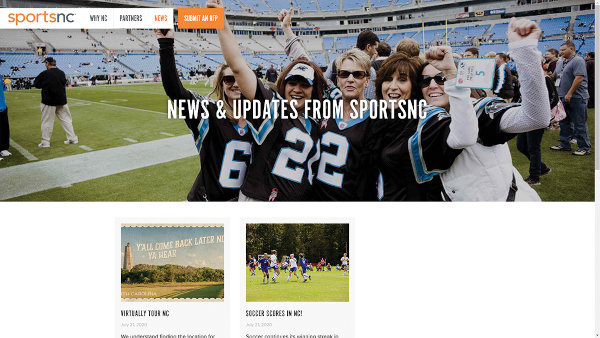 Sports Travel E-newsletter
Quarterly
This quarterly e-newsletter is aimed at the sports market, and the audience is comprised of sports rights holders and interested parties. Submit newsworthy content, such as new and/or upgraded facility information and recently awarded events.
Additional e-newsletter opportunities:
E-newsletter Featured Events – (3 per quarter)
E-newsletter Featured Destination – (2 per quarter)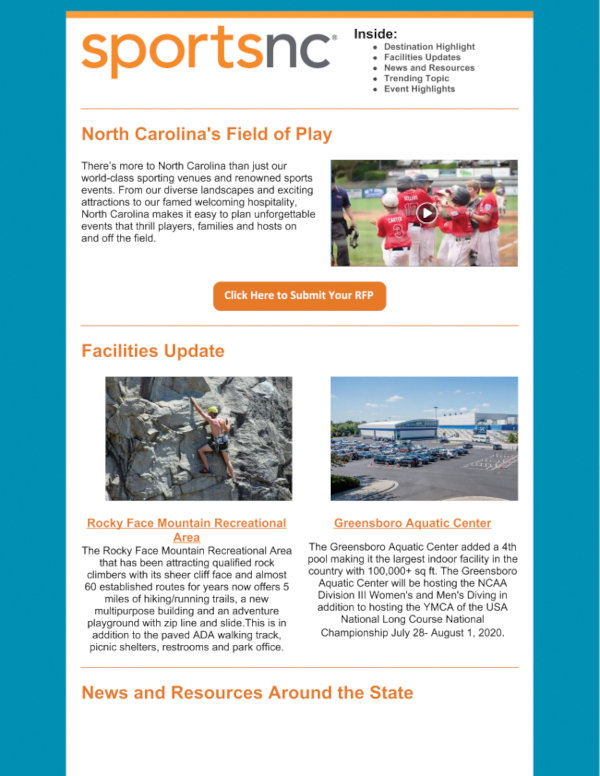 SportsNC Social
Partners have the opportunity to submit sports-related content for promotion on dedicated SportsNC social media accounts including Facebook, Instagram and Twitter. These platforms are used to strengthen the SportsNC campaign position. Highlighting events, facilities and facility updates, destination news and more information about sports in North Carolina. These opportunities give partners an additional avenue to market your destination and facilities to sports rights holders.
If you have any questions or would like to participate in any of the SportsNC programs, please reach out to Amanda Baker, amanda.baker@visitnc.com.