2021-2022 Additional Co-Op Programs
Creative Production Program
Inventory: Ten (10) partner spaces for the July '21 - June '22 fiscal year
Beginning spring 2021, building upon its award-winning Count On Me NC campaign, Visit North Carolina moves into the next phase of its recovery marketing effort and returns to inspiring travelers to plan their next visit to North Carolina. Visit NC's research-based inspiration campaign capitalizes on the state's known strengths as a place to reconnect with family, friends and oneself in a setting of scenic beauty from the mountains to the sea, including charming small towns and welcoming cities within our Piedmont region that allow open spaces to explore.
The "Get Back to a Better Place" campaign speaks to consumers longing for those places and experiences they know and love in North Carolina. And when you return to those places where you've had so many great moments, you also return to the best version of yourself.
In partnership with Visit NC, Luquire has created a la carte creative offerings to help North Carolina travel partners put together their own customized campaign creative for their co-op opportunities while leveraging the new Visit NC inspire campaign messaging. This program is great for partners who may not have creative production capabilities, but are in need of creative materials for upcoming co-op programs. In addition to development of a suite of standard size display banners, Luquire can also develop a quarter-page print ad for any print co-op buy a partner may sign up for. For both programs, partners will be able to provide brand guidelines, descriptive ad copy, logo and imagery.
Program Details: Creative offerings will be reflective of the Visit NC inspiration campaign messaging and look and feel, and include partner brand logo and visuals. Partners are to complete the program spec sheet and provide required assets at least 60 days prior to deliverable completion.
Deliverables

Description / Specs

Assets

Required Cost

Static Banners

Standard suite of six (6) static banner ads for desktop and mobile use.

Sizes include:

Desktop: 160 x 600, 300 x 250, 300 x 600, 728 x 90

Mobile: 300 x 50 and 320 x 50.

Includes banner ad layout with inspiration campaign headline copy, partner visual and custom descriptive copy. Partner will receive one (1) round of revisions.

Additional static banner ad sizes based on same creative concept are available at a cost of $150 / each size.

• Completed spec sheet

• Brand guidelines

• Brand logo (in Illustrator, PNG and ESP formats)

• 2-4 hi-res brand images

$3,600

Print Ad

One (1) 3.375 x 4.75 four-color .-page print advertisement.

Includes print ad layout with inspiration campaign headline copy, custom descriptive ad copy and partner visual. Partner will receive one (1) round of revisions.

• Completed spec sheet

• Brand guidelines

• Brand logo (in Illustrator, PNG and ESP formats)

• 2-4 hi-res brand images

$2,800
Disclaimer:Luquire and Visit NC retain all intellectual property rights to the inspiration campaign and related creative assets. Partner assets created as part of the Creative Production Program can be used exclusively for 2021-2022 Visit NC Partner Programs and are not available for use in any other advertising or marketing efforts. By submitting a photo for use for this program, partners are certifying they have the full rights to use that image. If partners would like to submit stock photography for these programs, they must be able to confirm that they have purchased the rights/licensing to use for marketing purposes. Luquire and Visit North Carolina are not responsible for any misuse of partner-provided imagery.
Visit North Carolina Photo Network
Visit North Carolina launched the Photo Network in 2016, utilizing a dozen professional photographers across the state. Their talents and expertise allow Visit NC to acquire high-resolution, up-to-date photography covering a wide range of seasons, activities and scenes, including outdoor adventure, dining, family fun, downtown attractions, mountain landscapes, beaches and more.
Visit NC's partners can now take advantage of the Photo Network and these seasoned photographers for their own photography needs through the different investment levels below.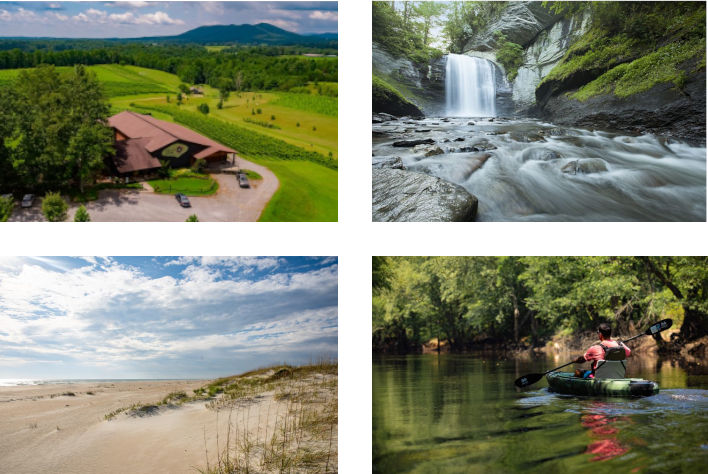 | | | |
| --- | --- | --- |
| Investment | Number of High-Resolution Photos | Shoot Locations |
| $3,250 Per Partner | 10 | 2 |
| $4,625 Per Partner | 15 | 3 |
| $5,875 Per Partner | 20 | 4 |
At each of these levels, Visit NC has invested additional funds on top of what the partner pays to cover the dual-use of the final selected images. Final photo selections can be used in perpetuity for advertising and publicity purposes to promote, and editorial purposes about, economic development, travel, and tourism in the State of North Carolina in television, print, industrial, out-of-home (including collateral), and digital/internet (including social media) media.
Video Production
The Video Production program is available to partners for $10,000 per video. Partners will receive a two-to-three-minute promotional video which can be used for all marketing purposes, including social media, websites, broadcast and for display at Visitor Centers, meetings and conferences.
Additionally, 60-or-30-second spots can be produced from the same footage for $500. Partners will also have access to B-roll footage for other purposes for a nominal fee. The completed video will also be posted on the partner's listing on VisitNC.com at no charge (a $200 value).
Bill Russ and Mark Forester, partners in Travel Video NC, have extensive experience producing photo and video imagery for the tourism industry in North Carolina. Since the Video Production program became available five years ago, they have worked with attractions, CVBs and Economic Development agencies across the state.